Military
"You are our favorite storyteller.
Nobody gives like you do, Faye"
Bonnie Weatherford
Commander
Tennessee American
Ex-Prisoners of War
Faye tells stories with American Ex-POWs and their spouses.
Faye poses with Bill and Ora Mae Richardson after a recent appearance at a meeting of the American Ex-POWs.
"Everyone was amazed that we could find
such a great diversity of talent. They said
yours was the best entertainment
provided at any of the reunions
anywhere in the country."
Bates Southall, Commander
United States American
Ex-Prisoners of War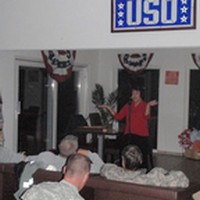 Faye tells stories to military service members at the USO in Landsthul, Germany.
More:
American Ex-Prisoner of War Special Events:

United States Reunion
Tennessee Reunion
Great Smoky Mountain Chapter Meetings
Middle Tennessee Chapter Christmas Luncheon

American Red Cross events for National Guard
deployment and returning soldiers and their families
USO Warrior Center at Landsthul, Germany, for wounded soldiers
Celebrate Freedom event in Pigeon Forge to Celebrate America's Veterans
East Tennessee Military Entrance Processing Center
Summer Camps for children of deployed National Guard soldiers
Ft. Richardson/Elmendorf Joint Base Library in Anchorage, AK
TRIO Veteran's Upward Bound Annual Banquet